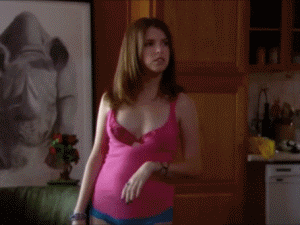 ---
Singer, actress, and hoebag, Anna Kendrick casually strolls around with her bra and cleavage completely exposed in the video above.
Obviously Anna Kendrick is showing her cleavage in an effort to distract from her hideous overbite. However, unfortunately for Anna she has failed as her breasts just aren't that interesting.
If Anna Kendrick is serious about hiding her prolapsed incisors then she should wear the burka. For if ever there was a woman with the face for it, it would be her. Besides it will save her a fortune in dental work as our righteous stones definitely wouldn't miss her big chompers.