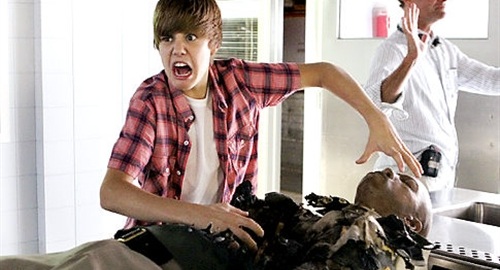 ---
Justin Bieber has just hit a new level of arrogance. As you can clearly see in the picture above Justin Bieber believes he has the power to raise the dead.
According to scribblings on a bathroom wall, Justin Bieber was walking through a hospital digging around in the trash cans looking for discarded prescription pills when a badly burned firefighter was wheeled into the ER. Justin Bieber laughed maniacally at what he referred to as "the irony yo" of a firefighter getting burnt by fire.
When the firefighter flat lined Justin rushed into the room and shoved the doctors out of the way, reportedly saying, "watch how it is done b*tches". He then proceeded to grab his crotch and dance around the corpse as he song his hit song "Baby". Justin then said, "In the name of Bieber I command this body to live again!" and waved his arms around.
However, when the firefighter failed to return from the afterlife at Justin Bieber's command, the singer reportedly became infuriated calling the corpse a "punk b*tch". He then stormed off in a tizzy, screaming through the halls that "no one makes the Bieber look like a fool and gets away with it".
An hour later the hospital caught fire and burnt to the ground. The police suspect arson.