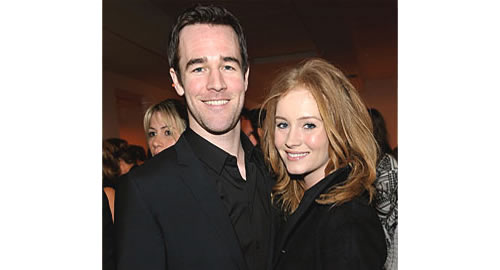 ---
James Van Der Beek and his girlfriend, Kimberly Brook, are expecting a bastard child this fall, CelebJihad has confirmed.
The 33-year-old actor confirmed the putrid abomination against Allah on his Twitter. "Yes, it's true – the woman I love and I are expecting our first child," he defiantly wrote, mocking sharia law. "Experiencing joy on levels I never knew existed."
Well, enjoy it while you can, because someday you will burn in hell for this sin, experiencing pain on levels you never knew existed.
I have not been this disgusted in a long time. It's bad enough that the two have been fornicating out of wedlock, but to actually brag about such a sin on Twitter is beyond reprehensible.
While James is somewhat at fault, clearly Kimberly is to blame. If she had been at home wearing a burqa under the protection of her male relatives this never would have happened. Does James really want the mother of his child to be a woman who parades her naked face and arms around town like a whore?
In any case, it's only a mater of time before Kimberly's brothers and cousins try to stone her to death for the shame she has brought to their clan. This will not end well.