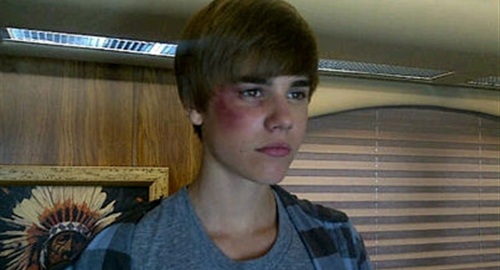 ---
Pop diva Justin Bieber got beaten up pretty bad by none other than Disney star and mental patient Demi Lovato! As you can see Justin Bieber's face is badly bruised and he reportedly also suffered a slightly torn labia after a confrontation with Lovato outside a Santa Monica nail salon. Frankly, he is lucky to be alive.
Demi Lovato was recently committed to a mental health facilily for various severe mental health issues after she assaulted one of her backup dancers in early November. Demi obviously targeted Bieber because of his alleged relationship with her ex-girlfriend Selena Gomez.
Demi Lovato and Selena Gomez had a well documented hot teen lesbian affair, and when the relationship deteriorated so did Demi's mental health. Recently pictures of Selena Gomez and Justin Bieber getting cozy have surfaced which is probably what caused Demi to snap and attack Justin Bieber.
I could always sense that the Justin Bieber, Selena Gomez, Demi Lovato lesbian love triangle was going to end in violence. There is little doubt that Selena will answer this attack against Justin Bieber, and the violence will continue escalating. Let us hope no innocent Muslims get caught in the crossfire.