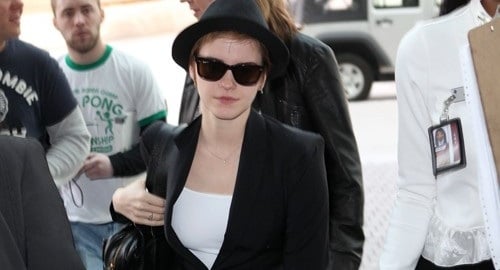 ---
Remakes of perfectly good movies are all the rage in Hollywood right now, and it appears as though Harry Potter star Emma Watson is getting in on the trend.
As you can see in the photo above Emma Watson has just landed the lead role in the remake of the 1980 hit comedy "The Blues Brothers". The producer of the film Allen Goldstein said that he wanted to remake "The Blues Brothers" for a long time now, because he "loves money" and "doesn't give a f*ck".
The creative force behind the film is little known indy director Guy Munchen. The original film was set in Chicago but Guy has a radical new vision for the film,
"I want the new Blues Brothers to take place someplace sexier, like Tahiti or Canada."
By casting Emma Watson as the lead Guy has already begone to put his stamp on "The Blues Brothers" franchise.
"I just thought what if instead of using fat guys like the original film, I used dykey British girls. It is all a part of my art. Giving the audience the unexpected."
Filming for the new Blues Brothers movie is scheduled to start in late Spring 2011.