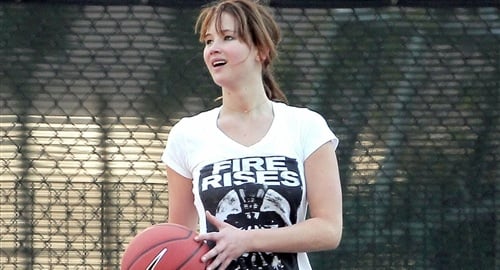 ---
Jennifer Lawrence, the star of the upcoming movie "The Hunger Games", was photographed making a fool of herself playing basketball in the pics below.
Jennifer looks like a complete spaz on the court, and her shots were bricks that she would be lucky to have hit the rim. Not to mention that Jennifer Lawrence's outfit is not even close to something a basketball player would wear. Can you imagine LeBron James in tight yoga pants like that? Sure he could pull it off, but it would be quite distracting especially to his teammate Chris Bosh.
Yes these pics below of Jennifer Lawrence attempting to play basketball are further proof of why women should never be allowed to pursue athletics, as they always end up looking foolish. Allahu Akbar!