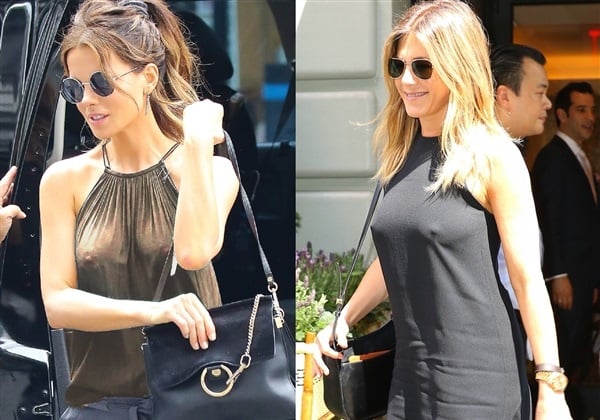 ---
Actresses Kate Beckinsale and Jennifer Aniston both recently went full nipple while out prostituting their menopausal mammaries in the photos below.
First up we have 42-year-old "Underworld" star Kate Beckinsale who not only shows off her sinful areola while braless in a see through dress, but again flaunts her tit toppers without a bra in an extremely sheer black top.
Of course Jennifer Aniston has long been the queen of celebrity nip pokies, as she has been smuggling raisins in her tops since her mid-twenties when she was on the hit TV show "Friends". However, now that Jennifer is 47-years-old her teats appear to have finally given up their struggle against gravity and are pointing south… Which coincidentally is where Jennifer will soon be heading when she succumbs to her advanced age, and burns for all eternity in the hellfire.
After seeing both Kate Beckinsale and Jennifer Aniston's stiffened nipples us Muslims are just glad that we live in a civilized society that does the humane thing and recycles its elderly women into low grade camel feed and cheap industrial solvents.