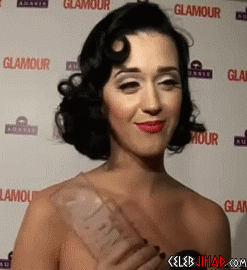 ---
Pop star Katy Perry subconsciously jerks off a phallic shaped award while giving an interview in the GIF above.
Like all infidel women Katy Perry is in a constant state of sexual arousal, as the infidel man's pathetically small genitals can never properly satisfy their sinful desires. Add to this the fact that the West follows the reckless and barbaric practice of not circumcising their women, and it should come as no surprise that Katy Perry and her fellow kuffar sluts are constantly horny and struggle to contain their insatiable carnal desires.
In fact, Katy Perry actually shows great restraint in this GIF by only jerking this award off (and possibly cupping its balls), for clearly Katy is fighting her innate instinct to start sucking this award deep before shoving it right up her snatch. However, if this were an Oscar it is doubtful that Katy Perry would have been able to resist.