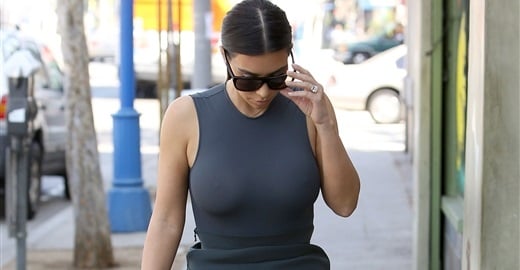 ---
Kim Kardashian walks the streets of Beverly Hills showing off her tig ol' bitties in a sheer top and no bra in broad daylight in the photos below.
It is surprising to see Kim Kardashian out like this as usually her pimp has her working the 12 to 6AM shift in Compton. However, sometimes a hoe wants to taste the good life, and that is what Kim Kardashian appears to be doing in these photos as she walks Rodeo Drive (one of the most affluent shopping districts in the Western world) with her tits on full display and her sloppy chicken grease filled ass testing the textile strength of her skirt.
Yes only in the West can you go out and buy your 7th gold plated Rolex with a hairy fat ass Armenian whore prostituting her breasts just steps away. I guess that is what they call "Democracy". Personally I'll stick to doing my high-end shopping in a nice Islamic monarchy like Dubai thank you very much.