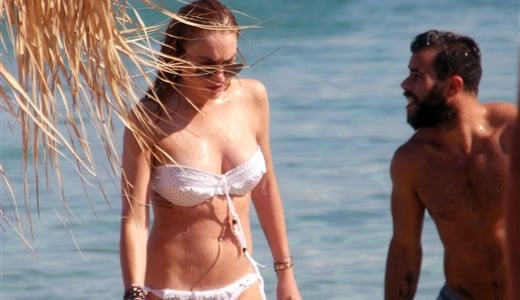 ---
Lindsay Lohan continues to terrorize the impoverished people of Greece with her nasty decrepit body in a bikini.
As you can see in the photos below, Lindsay Lohan has no mercy on the financially ruined Greeks, as she unrelentingly flaunts her saggy tits and ass while on the beach in a white bikini.
The only ray of hope these Lindsay Lohan bikini pictures offer is the appearance of the bearded scrawny (by Islamic standards) Muslim man who appears to be getting close to Lindsay. Obviously this man is a Jihadist recruitment officer for Al-Qaeda, and he is working to convince Lindsay Lohan to become a martyr by sneaking a pressure cooker bomb into a Hollywood award show in her oversized stretched out lady snatch.