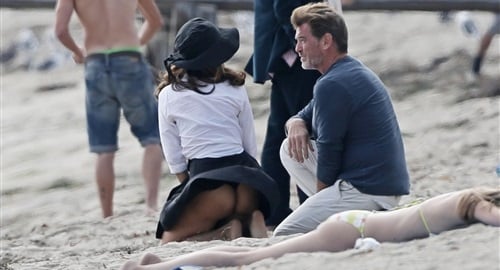 ---
Salma Hayek gets her skirt blown up revealing her thong while on the set of her new movie "How to Make Love Like an Englishman" (which I can only assume is a film about pasty dudes "shagging" each other in the "fanny") in the photos below.
Obviously this thong upskirt is all part of Salma Hayek's character, as I'd bet my prized goat that she is playing a saucy vivacious latin woman who is going to teach these uptight middle-aged British men how to loosen up and live life to the fullest.
Of course in real life when an Englishman sees these Salma Hayek upskirt thong pictures it does not inspire him to live more carefree, but rather to secretly get more women's underwear to wear under his neatly pressed three-piece suit.