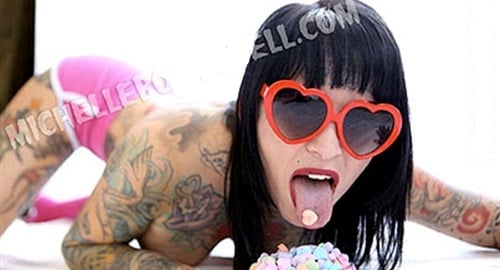 ---
Like most of the nation I have been in tears for most of the day today after finding out that Jesse James has been having an affair behind Sandra Bullock's back with some girl named Michelle "Bombshell" McGee. This news is so devastating that I, like most of you, will probably be forced to take my own life from the grief sometime later today.
Until then I'd like to cast a light on the home wrecker who ruined the Sandra Bullock Jesse James marriage. As you can see in the picture above she has that girl next door look that men find irresistible. Apparently her affair with Jesse James started when she friend requested him on Facebook. Everyone knows a friend request from a girl on Facebook is an open invitation to pillage her stink hole. Poor Jesse James was unable to resist the allure of this fresh faced vixen and succumbed to her brazen advances by inviting her up to LA to stay with him while Sandra was away filming "The Blind Side".
I can only pray that Sandra Bullock finds it in her heart to forgive Jesse for this small indiscretion. Hopefully she can realize how lucky she is to have a man like him for her husband. It is so rare to find a tattooed wannabe tough guy in LA that if you are fortunate enough to get one you damn well better hold on to him.