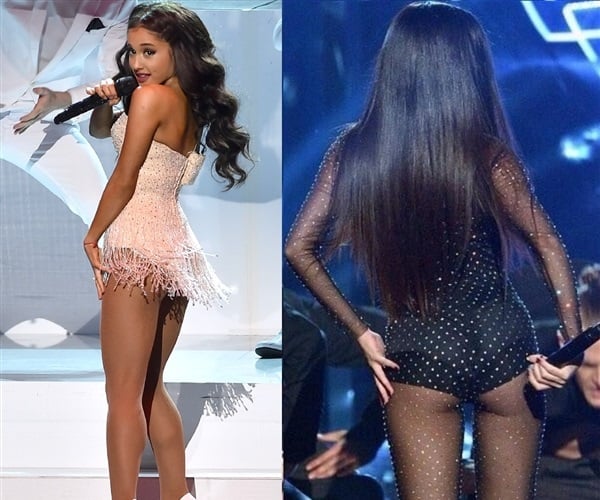 ---
Both Ariana Grande and Selena Gomez took to the stage to whore their asses in bedazzled slut suits at the American Music Awards last night.
There is a natural rivalry between Selena and Ariana, for not only are both girls moderately ethnic former child stars (Ariana on Nickelodeon and Selena on the Disney Channel), but they also both have underperforming singles on the charts right now (Ariana at #13 with "Focus and Selena at #14 with "Same Old Love") and desperately need a boast before their record labels pull their promotional funding.
With so much at stake it is no surprise that Ariana and Selena would do what they do best at the AMAs, and prostitute their sinful bodies for attention. First up we have Ariana who works her crotch and world renowned backside in a pair of sparkling white panties in the photos below.
In response to Ariana's cutesy girl in white performance, Selena played up her "bad girl" side by performing in a pair of tight black high-waisted shorts with her Mexican ass cheeks sloppily hanging out the bottom in the photos below.
Which girl's performance resonated more with the depraved infidel public? We will find out when the new pop singles chart comes out next week, but one thing is for certain… ISIS shot up the wrong concert venue.